Academic publications

Scientific publications include various academic-oriented documents: articles, books or book chapters, conference communications, and other quality scientific papers.
Local Public Policies and Collective Social Innovation: Thinking public action to accompany the construction of new social models from below

This work is based on the verification of the need for radical changes in the systems of production, distribution and consumption of goods and services that occur in contemporary cities and that model socio-spatial processes. These profound transformations are fundamental to be able to advance in the construction of more fair and sustainable urban spaces, that is, to be able to advance in the achievement of the right to the city in the original and radical terms proposed by Lefevbre and which Harvey and other authors have claimed. The present study puts the focus, in this context, on the importance that innovation processes produced by organized citizenship can have for this transformation. In these processes, regardless of the market and the state, alternatives of different types would be already being built, tested and deployed, aimed at de-commercialized, decentralized and democratized models of production and consumption in different fields and fundamental systems in the socio-spatial processes in the city, from food and energy to housing.
The work also starts from the idea that the centrality of the autonomous organization of citizenship does not deny the role and importance of public policy. Therefore, the text explores the nature, general principles and possible types of actions that, from the local level, could be deployed to facilitate (or at least not block) radical transformation processes from below in the cities. Chapter

Chapter of the book published by Baron, N. y Romero, J. (ed.) Cultura Territorial e innovación social: ¿Hacia un nuevo modelo metropolitano en Europa del Sur?. Universitat de València, València.

Publication date: 2018

Authors: Sergio Belda-Miquel, Alejandra Boni Aristizábal, Victoria Pellicer-Sifres

ISBN: 978-84-9134-290-8
Learning, transformative action, and grassroots innovation: Insights from the Spanish energy cooperative Som Energia

Grassroots innovations for sustainability are attracting increasing attention in academic, activist and policy debate. Although there is a recognition of their transformative potential, very little research has specifically been conducted on how transformative perspectives, strategies and actions emerge. This paper explores the role of learning in promoting transformative strategies towards sustainability. We develop a heuristic framework connecting ideas from social learning literature and Strategic Niche Management and address the case of Som Energia, the first renewable energy cooperative in Spain. Our results found that micropolitical and macropolitical factors are drivers that influence the emergence of first- and second-order learning. In turn, this learning moulds three different strategies proposed by this grassroots initiative, namely: commercial, social, and empowering strategies. Our results give insights to illustrate that, in order to develop radical transformative changes towards sustainability it is not enough to merely scale-up the regime (commercial strategy) or make sustainable and social proposals (social strategy), unless these aims are achieved through an empowering process that transforms our current values and relations (empowering strategy).
Paper published in: Energy Research & Social Science

Publication date: 2018 August
Authors: Victoria Pellicer-Sifres, Sergio Belda-Miquel, Iván Cuesta-Fernández, Alejandra Boni Aristizábal

DOI: https://doi.org/10.1016/j.erss.2018.03.001

The final version is avalaible at: Energy Research & Social Science
Transformative innovation. Proposals from grassroots innovations towards a human development

There are many ways to understand and practice social innovation. In this article we touch upon a specific perspective: grassroots innovations (gi) which explicitly seek the transformation of socio-technical regimes. From the analysis of two experiences that took place in the city of Valencia (consumer groups and an energy cooperative), we characterize the sense of the transformation of the grassroots and its directionality. For the former, the framework of socio-technical transitions is used, while, for the latter, the analysis is being made through the human development approach. The analysis reveals substantial differences in the way in which gi understand production, technologies, policies and regulations, industrial structure, access channels and sources of knowledge, compared with dominant socio-technical practices. It also shows that their proposals are clearly aligned with the principles of human development and allow the expansion of capabilities and agency.
Paper published in: RECERCA, Revista de Pensament i Anàlisi

Publication date: 2018 April
Authors: Alejandra Boni Aristizábal, Sergio Belda-Miquel, Victoria Pellicer-Sifres

DOI: http://dx.doi.org/10.6035/Recerca.2018.23.4

The final version is avalaible at: RECERCA
Grassroot digital innovation and public administration in the Smart City milieu.

This article presents the vision that Santander, Valencia, Bilbao and Donostia have of the Smart City (SC). It
also explores how local corporations interact with grassroots digital innovation experiences, understood as networks of individuals and organizations that generate innovation through the use of digital technologies for social and environmental purposes. For the analysis we have used a theoretical framework based on human development and the multi-level perspective of socio-technical transitions. The results show that the discourse of cities about SC wants to move towards a participatory vision, but is still far from it in its practice. This ispalpable in the way that local administrations interact with the experiences of digital social innovation where a unidirectional and instrumental practice still predominates. Additionally, we have analyzed 21 experiences of grassroots digital innovation: their vision of SC and how they interact with local administrations. Their idea of SC is more aligned with the values of human development, whereas their strategies are very different: from initiatives that choose not to have relation with administrations to others that aim for influencing them.
Paper published in: Instituto Nacional de Administración Pública (INAP)

Publication date: 2017
Authors: Aurora López-Fogués; Álvaro Fernández-Baldor; Alejandra Boni Aristizábal

DOI: http://dx.doi.org/10.24965/gapp.v0i18.10427

The final version is avalaible at: GAPP
From the Body to the City: Rethinking Our Territories from Collective Research with Social Cartography

In the urban era our bodies have been disconnected from their natural environment. Our homes have made structural inequalities invisible. Our individuality has broken community ties, and we have gradually lost our ability to act for the common good. Given this scenario, innovative methodologies must be developed from collective research processes that can reconnect future generations with the problems and inequalities of our territories. We are territory and the territory is the reflection of the people we are. The present article follows this line to explore the experience of a pedagogical innovation developed through collective research using social mapping with year 4 pupils at the Vicente Gaos infant and primary school in Valencia. The process is a pilot initiative promoted by the Institute for Innovation and Knowledge Management - Ingenio (CSIC– UPV) and the class tutor, who played an active part in co-designing and facilitating the social mapping project. The aim of the experience is to connect the students with the territory, by reflection-action on their own bodies, homes and city, to facilitate the development of skills, aptitudes and capacities with which to exercise the right to the city and promote human and sustainable development.
Paper published in: Kultur: revista interdisciplinària sobre la cultura de la ciutat
Publication date: 2017
Authors: Monique Leivas; Alejandra Boni Aristizábal; Montse Mendoza Crespo

DOI: http://dx.doi.org/10.6035/Kult-ur.2017.4.8.6

The final version is avalaible at: Kultur
Analysing participatory video through the capability approach. A case study in Quart de Poblet (Valencia, Spain)
The aim of this paper is to analyse participatory video (PV) as a Participatory Action Research(PAR) method through the lenses of the capability approach. In order to do this, we used a PV experience that took place in the municipality of Quart de Poblet (Valencia, Spain) from February to March 2014. The participants were eleven young people between 16 and 24 years of age, severely affected by the economic crisis that has hit Spain in recent years. To develop our analysis, we introduced the PV as a technique and a process within the PAR methods. Then, we analysed the participatory process to verify the extent to which it had contributed to expanding the capabilities and agency of the participants. The evidence revealed a significant expansion of the awareness capability and, in some cases, of the capability for voice. In contrast, the capability to aspire and the agency of the participants were not expanded, due to contextual factors and the limitations of the process itself. Click pdf
Paper published in: Action Research
Publication date: June 2017
Authors: Alejandra Boni; Aurora López Fogués; Gynna Millán; Sergio Belda-Miquel

DOI: 10.1177/1476750317715073
The final version is avalaible at:Action Research
Grassroots Social Innovation for Human Development: an analysis of alternative food networks in the city of Valencia (Spain)

Social innovation (SI) is becoming a popular concept in various environments, from academia to policy-making. It has been considered a means of identifying, understanding and imagining solutions to current social, economic or environmental challenges....click pdf
Paper published in: Journal of Human Development and Capabilities
Publication date: January 2017
Authors: Victoria Pellicer-Sifres; Sergio Belda-Miquel; Aurora López Fogués and Alejandra Boni Aristizábal
DOI: 10.1080/19452829.2016.1270916
The final version is avalaible at: Journal of Human Development and Capabilities
Grassroots Innovation for Human Development: Exploring the Potential of Participatory Video
Can digital technologies serve to highlight and strengthen the work of social organizations that promote human development? This is the question the authors want to answer in this article, in which they analyse an eight-month participatory video (PV) process...click pdf
Paper published in: International Journal of E-Politics, Volume 7, Issue 4. October-December 2016.
Authors: Alejandra Boni; Monique Leivas; Teresa De La Fuente and Sergio Belda-Miquel
DOI: 10.4018/IJEP.2016100103
Supporting Grassroots-Led Initiatives in the Spanish Energy Field Through Transformative Education for Sustainable Development
This chapter aims to contribute to the reflection on the optimal way to encourage stakeholder engagement for Education for Sustainable Development (ESD) in Higher Institutions (HI)...click pdf
Chapter published in: Engaging Stakeholders in Education for Sustainable Development at University Level, World Sustainability Series
Publication date: 2016
Authors: Victoria Pellicer Sifres, Pau Lillo Rodrigo and Alejandra Boni Aristizábal
DOI 10.1007/978-3-319-26734-0_5
Special Issue on Democratizing Research for Social Justice: The Role of Digital Technologies and Audio-Visual Tools (2016)
The use of digital technologies and audiovisual tools in social research is, more than a trending topic, opening new potentials to the way knowledge is produced, shared and disseminated (Pink, 2013; Stanczak, 2007; Pauwels, 2010)...click pdf
Special Issue Editorial published in: International Journal of E-Politics, Volume 7, Issue 4. October-December 2016
Authors: Alejandra Boni and Gynna Millán
DOI: 10.4018/IJEP.2016100103
What knowledge counts? Insights from an action research project using participatory video with grassroots innovation experiences (2016)
How do we know that the knowledge produced through research has a social impact? Which impact are we achieving? Who defines them? All these issues are of particular relevance in this Conference dedicated to explore the peripheries in the production and measurement of scientific knowledge...click pdf
Paper presented in: STI Conference 2016. Valencia (Spain). September 2016. http://www.sti2016.org/
Authors: Alejandra Boni; Monique Leivas; Alba Talón; Teresa de la Fuente; Victoria Pellicer-Sifres; Sergio Belda-Miquel and Begoña Arias
Action-Research using Participatory Video. A learning experience in San Lorenzo, Castellón, Spain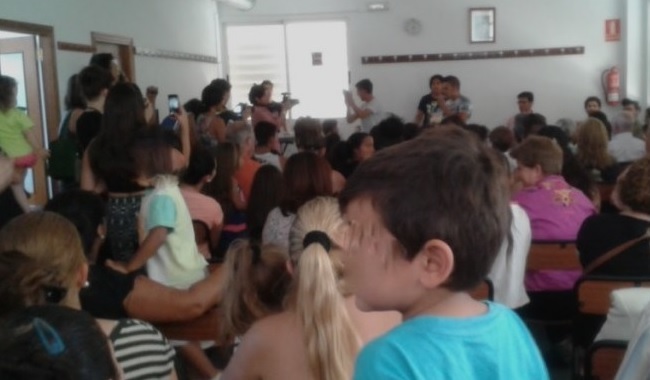 The aim of this paper is to analyse a Participatory Action Research (PAR) process undertook as part of a summer school in 2014, in the neighbourhood of San Lorenzo, Castellón–Spain. The methodology of Participatory Video (PV) was used to introduce action learning amongst attending international students...click pdf

Paper published in: Revista de Comunicación y Ciudadanía Digital. Volume 5, Issue 1
Publication date: June 2016
Authors: Alejandra Boni and Gynna F. Millán
Repensando el cambio climático desde la innovación social de base: aproximaciones desde el desarrollo humano y las transiciones socio-técnicas
This work aims to contribute to understand how transitions towards sustainability happen. It is based on transformation approaches to combat climate change, so as to overcome current limitations of dominant approaches...click pdf
Paper presented in: II International Congress Development Studies, Huelva (Spain). June 2014. http://www.uhu.es/IICIED/
Authors: Sergio Belda Miquel; Victoria Pellicer Sifres; and Alejandra Boni Aristizábal